Warning... The American Motion Picture Association of America (MPAA) has rated the movie Eyes Wide Shut "R." The segments shown here contain scenes with female nudity... not that they are terribly bad or of bad taste. You be the judge.
It has been quite a long time since I was lured into the laziness of not doing any writing. Instead, I let the video and sometime the music do all the talking. Time for a change so I sharpened my pencils and my tongue for a new dialog, the first one of the new year 2007.
As a Chirstmas present, I received a BFI modern classics book authored by Michel Chion. BFI, in case you don't know, stands for British Film Institute; and its modern classics is a series of critical studies of films (motion pictures) produced over the last 30 years. BFI books cover many movies that I have in my repertoire, such as 10, Amores Perros, Blade Runner, Bombay, The Exorcist, Groundhog Day, The Idiots, Jaws, L.A. Confidential, L'Argent, Nosferatu, Pulp Fiction etc... too many more to mention here. Incidentally, if you think you have seen something familiar from one of the names above, check out my "Time To Die" video clip somewhere in this space, in December 2006.
The book I received is about a movie, an old one that stayed in my queue to watch ever since it came out on DVD: Stanley Kubrick's Eyes Wide Shut. Kubrick was one of my favorite movie director, so I of course have all his movies, but for whatever reason, I have never watched Eyes Wide Shut, until now, that is... after I read the BFI book. As I rarely agree with (or understand) movie reviews or analysis, I had no qualms to read the analysis of this movie BEFORE finding time to watch it. So I did read the book in its entirety, which took me a few days, putting it down and picked it up again different times. I never knew how convoluted movie making could be psycho-analyzed to this degree, but this is highly entertaining reading material. I always place movie music interest high on my list of things to find out about a movie, and the sound track of this movie is no exception. The final push I needed to pull Eyes Wide Shut out of my hard drives to watch it NOW is the reference to the music on page 33 of the book:
"...Pook created a sort of 'world music'.... with a male voice played backwards evoking some kind of eastern priests."
Say what? I've got to check this out.
As usual, the version I have of this movie is an "American sanitized" one that is less saucy than the original version made by the movie director. Even with that in mind, the segments of video in question here contain female nudity that has earned the movie an R rating.
Well, readers, you have been warned: "Do not enter unless your heart really desires!" But this is quite interesting, you'll see and you may even agree. Read on...
The name Pook refers to Jocelyn Pook, who can be traced to an album named "Flood" released in 1999. Pook is a contemporary classical composer and violinist who divides her time between avant garde scores and pop collaborations. Track 6 of the "Flood" CD is the composition "Masked Ball" used by Kubrick in Eyes Wide Shut's beginning of the orgy scene. It is 6:09 minute in length. So here it is, check it out and come back to this page... to read on...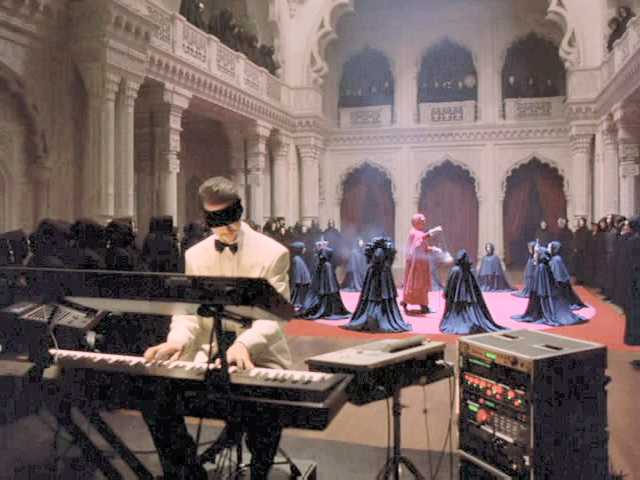 At the request of Kubrick, Pook adapted her earlier work named "Backwards Priests" to produce "Masked Ball" in which the chanting heard is the sound track of Romanian priest chanting played backwards.
You can imagine that this is going to require serious technical work to get to the bottom of all this intriguing behind the scene secrets. First, how do you play a sound track backwards? Hmmmm... This is not rocket science, so after a few waves of my magic wand, I listen to the entire 6:09 minutes of the secret sound track, but it was no real big help! What are they talking (chanting) about??? It turned out that I am not the only person trying to decipher this mystery and I found some discussions giving away the answers to the Romanian chant of priests. As it is cruel for me to leave you in the dark, here it is, fully explained...
The chant is Romanian, and plus or minus a few typos/errors, it says:
"Zisa Domnului catre ucenicii sai...Porunca noua dau voua...
Domnului sa ne rugam pentru mila, viata, pacea, sanatatea, mantuirea, cercetarea, lasarea si iertarea pacatelor robilor lui Dumnezeu. Inchinatori, miluitori si binefacatori ai sfantului lacasului acestuia."
In the reversed video below, you can hear the chant reciting the words above. The first phrase is chanted in the lower tone, loosely translated as...
"And God told to his apprentices...I gave you a comand..."
This phrase is repeated several times during the 6:09 minutes which ended with a final repetition 8 times in solo. In four instances, this short and repetitive chant is accompanied by the higher pitch voice chanting the second part that says...
"Pray to the Lord for the mercy, life, peace, health, salvation, the search, the leave and the forgiveness of the sins of God's children. The ones that pray, they have mercy and they take good care of this holy place."
which was repeated a total of 4 times during the segment.
And here it is... This one opens a new window so you can hear the chant and read the text on this page at the same time. You will need to allow new window to pop up, a small price to pay.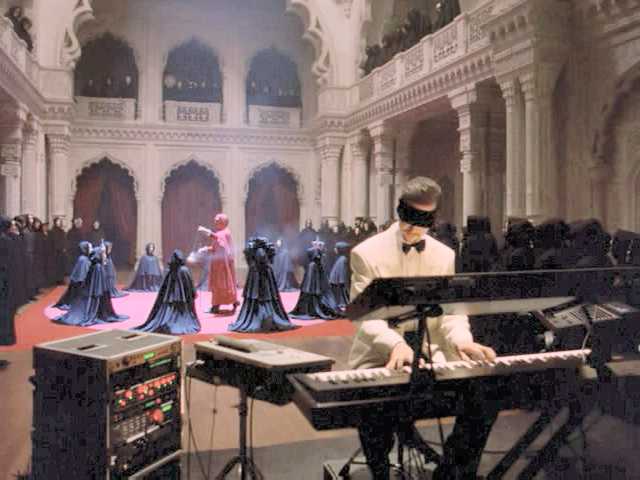 Evidently, this is one of the movies that you can only appreciate by multiple viewings. My favorite clip? Since you asked, take a peek... Can you SEE while your eyes are wide shut? Be patient! Wait! Is the screen really black? Are you sure? Keep your Eyes Wide Shut, you'll see!
The music you hear is used at the beginning and at the end of the movie: Waltz 2 by Dmitri Shostakovich's Suite for Variety Stage Orchestra, which is one of the two main themes selected by Kubrick. Georgeous.