Talk to Her (Spanish: Hable Con Ella) is a 2002 Spanish film written and directed by Pedro Almodóvar (one of my very favorite motion picture directors,) starring Javier Cámara, Darío Grandinetti, Leonor Watling, Geraldine Chaplin, and Rosario Flores. The film won the 2002 Academy Award for Best Original Screenplay and the 2003 Golden Globe Award for Best Foreign-Language Film. In 2005, it won a large number of awards as Best Foreign Film, too numerous to list here. Time magazine film critics Richard Corliss and Richard Schickel included Talk to Her in their list of the All-TIME 100 Greatest Movies. This is, in my book, a great movie to be watched again many times to fully appreciate it. If you do,pay full attention to the music.
In
2006
and
2007
, I blogged two short clips from this movie, but they did not really do justice to it. This time, this blog gives a better glimpse of Hable Con Ella. This movie partly owes its great success to its sound track, which I adore.
Continuing the successful collaboration that begun on 1995's The Flower of My Secret, composer Alberto Iglesias works with director Pedro Almodóvar to produce a quietly sophisticated music ensemble to accompany a fascinating story in 2002's Hable Con Ella. If you never heard of Brazilian vocalist Caetano Veloso, listen to his "Cucurrucucu Paloma" by Tomás Méndez (as Tomás Méndez Sosa)
here
; or listen to a teaser of
"Raquel"
By Rufino Almeida & Africa Nostra, from the album "Tôp d'Coroa" by Bau.
Today's clip from "Hable Con Ella" is about Lidia, the female professional bull fighter. The first half of the clip's soundtrack is the haunting "Por toda a minha vida" written by Antonio Carlos Jobim (as Tom Jobim) and Vinicius de Moraes, performed by Elis Regina, a famous Brasilian singer who died at the very young age of 35. The song's Portuguese lyrics essentially says "Love is the saddest thing when it goes away." This is a very famous song and the next clip lets you hear it rendered by the master crooner Caetano Veloso himself (I got that from Youtube so the quality of the video is not so good.)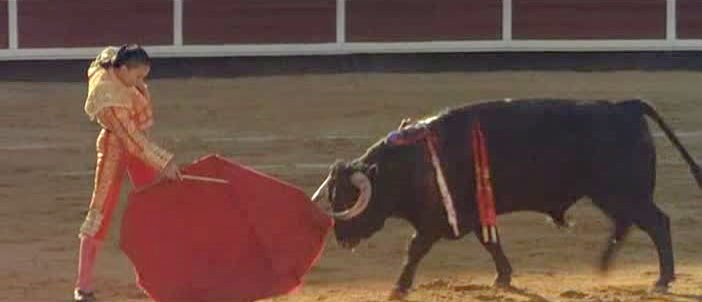 The second half of the Lidia clip shows you a very rare close up of how a toreador (that's the bull fighter's name) is clothed for the very horrific and theatrical bull fights in Spain's bloody arenas. The bulls' bloodiness in this film is real. An ecological group in Madrid tried to sue Pedro Almodóvar for ill treatment of the animals, blaming society for accepting it. Almodóvar said that he had the permission of the bulls' owners to kill them. The story line of the movie has it that Lidia is gored by the bull and never recovered from her coma resulting from her injury. The music during the bull's rampage is "A Portagayola." Return here to hear some of the better movie soundtracks from "Hable Con Ella" in my next blog.
Here is the Youtube clip of "Por toda a minha vida" by Caetano Veloso who has aged a bit since his singing "Cucurrucucu Paloma" in "Hable Con Ella."