Stanley Kubrick (July 26, 1928 – March 7, 1999,) an American movie director, made many memorable movies. A perfectionist, he always paid meticulous attention to the details of his movies, each one of which is a work of its own, distinct from all of his others. I have blogged two of his movies:
Paths of Glory
and
Eyes Wide Shut
. This is Lolita, a 1962 film based on the classic novel of the same title by Vladimir Nabokov. The film stars James Mason as Humbert Humbert, Sue Lyon as Dolores Haze (Lolita, a nickname that forever after associated with a nymphet) and Shelley Winters as Charlotte Haze with Peter Sellers as a devilish character named Clare Quilty.
Due to the Motion Picture Association of America's (MPAA) restrictions at the time, the film could not faithfully recreate the far more provocative aspects of the novel, leaving a lot to the viewers' imagination. The actress who played Lolita, Sue Lyon, was fourteen at the time of filming.
The prudish censorship of the time severely restricted Kubrick's artistic creativity. He later commented that, "because of all the pressure over the Production Code and the Catholic Legion of Decency at the time, I believe I didn't sufficiently dramatize the erotic aspect of Humbert's relationship with Lolita. If I could do the film over again, I would have stressed the erotic component of their relationship with the same weight Nabokov did." In a 1972 Newsweek interview, Kubrick said that had he realized how severe the censorship limitations affected his movie, he "probably wouldn't have made the film."
Lolita's age was raised to fourteen, as Kubrick believed that this was the right age. He has commented that, "I think that some people had the mental picture of a nine-year-old, but Lolita was twelve and a half in the book; Sue Lyon was thirteen." (Actually, Lyon was 14 at the time of filming: she was born in July 1946 and it was shot between November 1960 and May 1961.)
When released, Lolita was Rated BBFC X by the British Board of Film Censors, meaning no one under 16 years of age was permitted in theaters where it was showing.
This clip is when Humbert came to see Charlotte Haze, Lolita's mom, looking to rent a room for the summer. Charlotte, desperate widow, immediately came on strongly to Humbert after learning that he was divorced. Watch to see how she does that, which turned him off completely and he was ready to get away from her... until he saw the "Decisive Factor" which is the name of the movie chapter when he first saw Lolita.
Alea iacta est!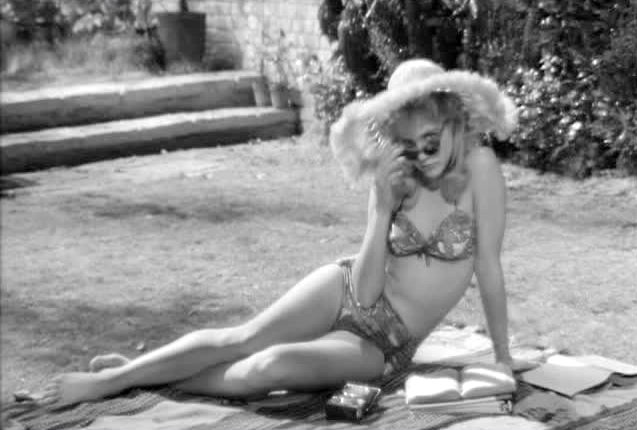 Veteran arranger Nelson Riddle composed (with Bob Harris) and conducted the music for Kubrick's Lolita. The song introducing Lolita throughout the movie is "Ya Ya," with its loping guitar riff and baby doll "ya-ya-wo-wo-ya-ya" vocal. Below is the Lolita Ya Ya sung by Sue Lyon.