Black Orpheus (Original Intl. release title: Orfeu Negro): The Film. Dispat Films, December 1959, is a great classic Portuguese-language film by French director Marcel Camus and based on a play by Vinícius de Moraes. The music of this film became known throughout the world.
"Manhã de Carnaval" ("Morning of Carnival"), is the title of the most popular song by Brazilian composers Luiz Bonfá and Antonio Maria. Particularly in the USA, the song is considered to be one of the most important Brazilian Jazz/Bossa songs that helped establish the Bossa Nova movement in the late 1950s. Manhã de Carnaval has become a jazz standard in the USA, while it is still performed regularly by a wide variety of musicians around the world in its vocalized version or just as an instrumental one.
In the USA, the song is also known as "A Day in the Life of a Fool", "Carnival", "Theme from Black Orpheus", or simply "Black Orpheus". In France, the song is also known as "La Chanson D'Orphée." The song is also known by the Spanish title "Mañana de Carnaval". All versions of foreign texts were written by different people using Bonfá's original music. The list of Recordings of Manhã de Carnaval is impressive, litterally by everyone who's who in the world of music.
Although most of the songs in the film, Orfeu Negro (Black Orpheus) were composed by Antônio Carlos Jobim and Vinícius de Moraes, Manhã de Carnaval was one of two by composer Luiz Bonfá (the other being "Samba de Orfeu"). Manhã de Carnaval was by far the song that got branded popularly as the movie theme in "Black Orpheus." Luiz Bonfá's success with his 1959 hit song was great, and made his name so well known in the music industry internationally that on several occasions US producers brought him from Brazil to the USA for TV presentations. "Manhã de Carnaval" was originally sung by Elizete Cardoso and Agostinho dos Santos.
The first clip from Black Orpheus was blogged in December of 2006
here
. In that clip, Orpheus was singing Manhã de Carnaval to the two kids who believe that Orpheus has the magical power of making the sun rise by playing his guitar and singing. During this song, he was heard by Eurydice in her room next door, and love was born.
Today's clip is the second famous song, Felicidade, sung by Orpheus to Eurydice while a fabulous new sun was rising over the slumps of Rio de Janeiro where the story took place.
Felicidade
Music: Antônio Carlos Jobim
Lyrics: Vinicius de Moraes
A minha felicidade esta sonhando..... My happiness is dreaming
Nos olhos da minha namorada..... In the eyes of my girlfriend
E como esta noite, passando, passando..... It's like this night, passing, passing
Em busca da madrugada..... Seeking the dawn
Falem baixo, por favor..... Speak low, please
Pra que ela acorde alegre com o dia..... So she might wake up happy
Oferecendo beijos de amor..... Offering a kiss of love
Tristeza nao tem fim..... Sadness has no end
Felicidade sim..... Happiness does
A felicidade é como a gota..... Happiness is like a drop
De orvalho numa pétala de flor..... of dew on a flower's petal
Brilha tranquila..... Brilliant and tranquil
Depois de leve oscila..... Then quivering
E cai como uma lagrima de amor...... Then falling like a tear of love.
You can read the English translation in the subtitle of the clip.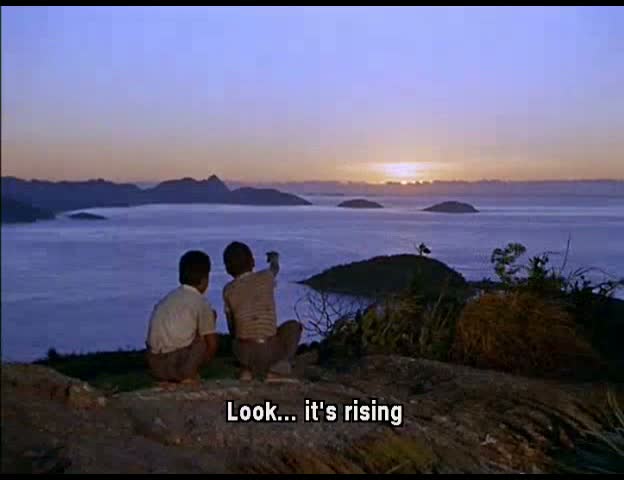 In case you are really interested in this movie, its original soundtrack has 14 tracks. The second is heard at the very beginning of the movie when the credit runs. It is an introduction to Felicidade, the lyrics of which is below:
Tristeza não tem fim
Felicidade sim
A felicidade é como uma gota de orvalho
Numa pétala de flor
Brilha tranquila
Depois delevocila
E cai como uma lágrima de amor
A felicidade do probre parece
A grande ilusão do carnaval
A gente trabalha o ano inteiro
Por um momento de sonho para fazer a fantasia
De rei ou de pirata ou de jardineira.
Pra tudo se acabar na quarta feira.
Tristeza não tem fim
Felicidade sim
A felicidade é como uma pluma
Que o vento vai levando pelo ar
Voa tão leve
Mas tem a vida breve
Precisa que haja vento sem parar.
Tristeza não tem fim
Felicidade sim
Click on the player to hear this original track.