And the Ship Sails On (Italian: E la nave va) is a 1983 Italian film by Federico Fellini. It depicts the events on board a luxury liner filled with the friends (and some enemies as well) of a deceased opera star, diva Edmea Tetua. Many of Italy's most famous operatic names gathered to mourn her death.
In December 2006, I blogged three clips from this movie. Those video streams are no longer viewable and I decided to repeat them here because I think this movie is truly underated and regrettably is largely unknown. I place this movie to the same level as Felllini's Amarcord. It is a second Amarcord with a great soundtrack to boast. Felini was known to hate operas. Somehow, he made this movie that is populated with nothing less than numerous characters to portray an entire ensemble of the most famous stars of the operatic world.
The movie is about a special ocean voyage that was commissioned in 1914, only a few weeks before World War 1 broke out, to scatter the ashes of Edmea Tetua, the world-famous opera star who passed away. She was born in the island of Erimo, and wished to have her remains scattered in its waters. The cruise ship Gloria N. was setting sail from Naples harbor. You must know that this movie was shot entirely in Rome's Cinecitta studios, and there was no ocean liner or battle ship. The huge sets were constructed by Oscar-winning set designer Dante Ferretti.
The first clip shows a very original way that Fellini conveyed the time stamp of his story: the time of silent movies in sepia colors of the 1910s, when the cameras were hand held. While the reporter Orlando assigned to cover this event prepares for his job with the cameraman, many of the main characters of the movie arrive to board the ocean liner, including the proud soprano Ildebranda Cuffari who wants to take the coveted place of Tetua now left vacant. After more than 4 minutes with only the cracking noise of the hand-cranked camera, the music comes alive with Agnus Dei - from Petite Messe Solennelle by Gioachino Rossini with Gianfranco Plenizio at the piano. Now the audience realizes it is a funeral and the ashes of Edmea Tetua is being carried onto the ship. It is not clear who the sole woman in black veil who follows the urn was, but the man wearing a scarf you see blowing a kiss to the urn was Tetua's lover.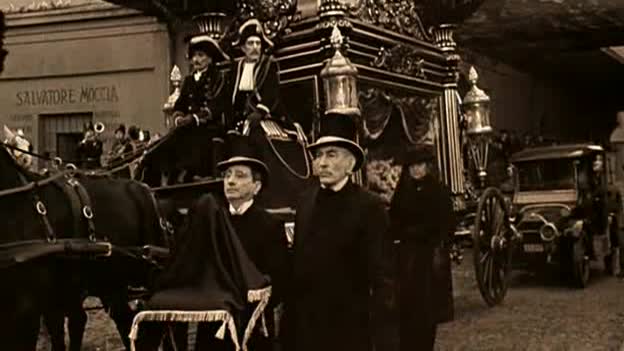 The next clip follows with Verdi's Overture to The Force of Destiny for the departure of the ocean liner. The conductor is Il Maestro Albertini. The film moves from the kitchen to the luxury dining room with Piotr Ilich Tchaikovsky's Waltz of the Flowers from "The Nutcracker." To be continued...